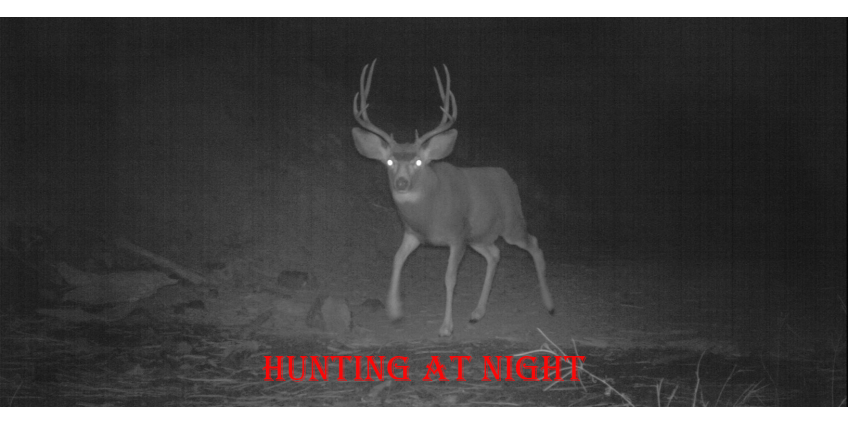 Night hunting is a very specific activity. Man, as a biological creature, is poorly adapted to activities in the dark, so he needs all sorts of auxiliary devices. It is believed that the main problem is the choice of night optics, and partly so, but do not forget about the weapons.
My task is to talk about a comprehensive approach to the selection of weapons and accessories for night hunting. I will immediately agree that some points will have to be touched on in passing, and pay more attention to them at another time.
What Does it Involve?
Speaking of night hunting, you mean hunting in the dark. Night hunting dates back to those distant times when people first noticed that some animals led an active life at night.
In the past, people used to hunt exclusively at moonlit nights. Hunting was associated with many dangers, because in the dark it is easy to miss or become the prey of the wild beast. Now that there are telescopic night vision sights, night hunting has become an adventure that promises a powerful burst of adrenaline and a sea of pleasure.
Nighttime hunting is not just about hunting for the beast. Much of the wildlife's behaviour can only be discovered at night, and thanks to modern night vision devices, hunters have many amazing discoveries to offer.
Night Hunting Gear
Night hunting is shooting for short distances, because the meaning of hunting in the dark is that you can get very close to the beast. Most often, when hunting from behind the scenes you shoot at a distance of 5 to 35 meters, less often - 50-80 meters. For such distances smoothbore 16 or 12 caliber shotguns with night sight will be suitable.
At night hunting one cannot do without night vision devices - at least to see the target and know where to shoot.
There are 3 generations of night vision sights, each of which has its own advantages and disadvantages:
Night sights of the 1st generation.
They have not the best characteristics in terms of recognition range: the image obtained in the dark is not clear enough on the edges, it is possible the presence of dark dots on the EEP, which is acceptable when released from the factory. Hunting with such a sight is possible only in conditions when there is at least a quarter of the moon in the sky, in a completely moonless night will need additional IR-illumination.
Depending on the degree of sky illumination, the first generation sights allow you to see the target at a distance of 50 - 150 meters. Previously these devices used glass tube EOPs, they were not recommended to be mounted on smoothbore rifles of high caliber due to strong recoil, which could damage the sight. Now EEPs are installed in the ceramic case, which made it possible to use certain models with powerful magnum cartridge. The main advantage of the generation of night sights 1 and 1+ is their relatively low price, so they are well suited for beginner hunters.
Night vision sights of the 2nd generation as well as Gen 2+.
These sights have no defects of their predecessors: they give a very clear picture even on moonless nights. In the cloudy sky it is possible to see the beast in the sight at a distance of 145 meters, in the full moon - at a distance of 630 meters. Gen 2+ sights are not afraid of recoil, so they can be mounted on smoothbore weapons of any caliber. In the presence of such a sight is almost impossible not to hit the beast: according to statistics, the frequency of hitting the target in open terrain - 80-90%.
Night sights of the 3rd generation.
These sights have the most powerful optics, but they are also the most expensive. With such a sight the hunter can see everything that happens in the night forest to the slightest detail, and even in the darkest of nights. In full moon these devices will allow the hunter to see the beast at a distance of up to 830 meters, and in the cloudy sky - at a distance of about 200 meters.
The digital night vision sights are on sale relatively recently. Such technique is not much more expensive than 1st generation sights, but its characteristics are much better. Digital sights can be put on guns of any caliber, with them you can hunt not only at night, but also in daylight, to shoot just one shot. Such devices have many additional features, such as video recording and GPS navigator. Digital night sights allow you to see in the dark at a distance of up to 200 meters.
In addition to sights, there are other devices for hunting at night.
Night vision goggles and infrared laser designator.
Night vision goggles are attached to a special mask, which is put on your head and leaves your hands free. Unlike the night vision sight for hunting, the night vision goggles do not approach the target visually, which allows you to really assess the distance and see what is happening around without distortion. Such glasses are indispensable for hunters who sit for hours in a stand- they allow to observe the fascinating night life of the forest without attracting attention. If necessary, the glasses can be moved periodically on the forehead to look around with the naked eye.
Together with night vision goggles, an infrared laser designator is used. The device is mounted on a telescope sight and, when pointing at an object, creates a small light spot of red color, which helps the hunter to get exactly to the target. When hunting at night, it is very important to shoot at a certain point, for example, between the blades of the beast. If you miss a little, the wounded animal will leave and it is difficult to chase him in the dark. In this case, a laser designator makes it easier.
Night vision monocular and collimator sight.
Another handy device for night hunting is the Night Vision Monocular. This compact device is a kind of binoculars, but with one eyepiece, so you can only look into it with one eye. Monoculars can be distinguished by the degree of magnification of the lens: usually it ranges from 1 to 5. The advantages of these devices include their low weight and size - you can hold a monocular in your hand, place it on a tripod or attach it to your head with a mask.
Night vision monoculars are used for hunting in combination with collimation sights, which have no dioptric properties. Such sights are rather light and can be mounted on any type of weapon, as opposed to IR sights. Collimator sights can be used both for day and night hunting, in the latter case they are switched to night mode.
Thermal sights.
Thermal sight or monocular has several advantages over optical and night vision devices. In particular, they allow you to observe the beast in heavy snow, fog, rain, through leaves and even to detect camouflage points.
Best 10 tips for first time night hunters
In this topic we would like to gather together in the form of items advice for a successful and safe night hunting.
• Do not shoot if the target cannot be uniquely identified both by sight and location. That is, do not shoot at noise, rustle, growl, crunch, shadow.
• To avoid accidents when walking around the land, use a flashlight to indicate yourself and not to be mistaken for game.
• When hunting with a partner, strictly observe the agreements on the location of each other during the movement, so as not to shoot each other.
• It is highly desirable to use walkie-talkies with an earpiece to communicate with your partner(s).
• The firing beast should be carried out with extreme care, using the light of lanterns. When the beast is being extracted by a group, move with the help of a rope, keeping ahead of it and keeping up with it. The weapon must be loaded but protected by a fuse.
• If possible, use the dogs for searching and extracting the animal at night.
• Use the bell attached to the collar when extracting the animal at night with the dog(s).
• In the forest protect the eyes with goggles/mask.
• Be vigilant, keep your eyes peeled (HPV and thermal imaging camera).
• In winter, don't forget the danger of hypothermia.
Conclusion.
What conclusions can be drawn from the analysis of the above? If sufficient funds are available, it will be correct to stop at the sights of generation 2. This choice will be ideal in terms of price and quality ratio. Well, if you are serious about night hunting, it is better to buy a separate rifle, shoot it with the chosen sight and use it exclusively for night hunting.
Also do not forget about the safety described above.
And, of course, do not forget about the night vision devices. They are your best friends during the night hunt!