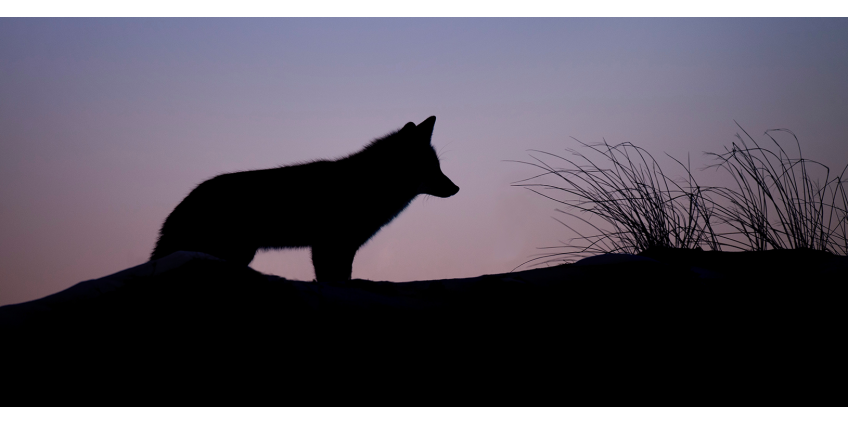 Hunting for coyotes
Coyotes, which can be hunted, are smart. Why? Because the stupid ones are already dead!
One of the most interesting and challenging hunts is coyote hunting. Since ancient times, coyote hunters were among a separate, much respected group of hunters, "caste". What is the reason for this special position among all other hunters? First, because hunting coyotes requires special skills of a hunter or a gamekeeper. Secondly, because the hunter protects against raids of gray predators of pets, and often people, especially in remote areas.
Hunting for coyotes requires very specific equipment, because the animal is wild and dangerous. You cannot get close - firstl, it is dangerous, and second, you will scare the predator with your scent.
In this article, we have collected a list of all useful devices that can be helpful during the operation. In addition - our personal "TOP 4" chic night vision sights for hunting coyotes.
So, our list of the best night vision sights for hunting coyotes:
· AGM Secutor TS75-384
· Combat 3-9x32 E
· TWS GSCI
· Pulsar Digisight N455 LRF
Why did each of them appear on our list? What were the selection criteria and why do you need to know a little more about the sights, but also about other equipment?
Interested? Then let's deal with it!
Equipment for hunting coyotes
The sniff and sense of smell of the coyote downwind is amazing. This beast is able to hear sounds, in the best conditions, up to 9000 yards away. The coyote is able to distinguish up to 200 million smells. For comparison, a person - up to 10,000. Therefore, we can say that the coyote is a first-class "target detection station", which can only be compared with a person if he uses different devices to enhance visibility or sound.
So, to defeat this cunning and dangerous beast, you need:
· optics (best of all, a high-sensitivity thermal or night vision sight);
· weapon;
· a lot of good luck!
Of course, the hunter is required to have good shooting skills, knowledge of cartridge ballistics and patience.
Best scopes for coyote hunting
Hunting a coyote requires at least a night vision sight or thermal sight and, even better, a sight and an observation device (binoculars or monoculars) for viewing at night.
The best, from a technical point of view, is an NV-imager: the image of living objects will be the most contrasting on the background. However, the price for such devices can range into the several thousands of dollars.Therefore, the best solution for hunting a coyote in the described conditions is a bundle of "thermal imaging observation device" + "digital night scope" mounted on a weapon.
And if we are talking about sights, here is our personal list of the best sights for the coyote pen.
AGM Secutor TS75- 384
AGM Secutor is the most powerful compact thermal sight from the American company AGM Global Vision, designed for long-range operation. The sight is made of high quality materials, lightweight and weatherproof, which is extremely important if you hunt in ambush conditions. The sight is made of durable materials, lightweight and weather-resistant. The lightness of the sight also gives you an advantage if you need to be in a stationary position for a long time. The sight has three lens modifications: 25mm, 50mm and 75mm. For hunting coyotes, of course, choose a 75mm lens for long-range aiming. The sight is able to work continuously for 5 hours. The device has a replaceable battery, the ability to connect an external power source - you can hunt all night without fear of sudden turn off with it. For the convenience of the hunter, all modifications have the ability to communicate with your smartphone via Wi-Fi, built-in recorder for recording photo and video images.
Excellent lens armasite 82hd, ultrasound sensor 384, 5 profiles, in each of 5 distances. The composition also has a ballistic calculator (enter, measure with a stadiometer rangefinder and the mark on the reticle shows a correction in height). Fastening is quick-release, mounted on the bar with the removal of the SOT sight.
Why is the scope on our list?
· A good range will allow you to track the beast, and this is important for coyote hunting;
· Three modifications of the lens, if you prefer an ambush hunting with "flags";
· The sight is relatively light. This means that if you hunt for a long time, you will not get so tired;
· Long life - 5 hours. And with a replaceable battery, this service life increases many times;
· Price. For a device of such a high class, the cost is moderate.
Combat 3-9x32 E
At each hunt, you may encounter a problem that it is impossible to get close to the beast. At the same time it is inconvenient to use the sights with higher (16x, 24x) multiplicity, because the swinging of hands confuses the mood. For such purposes the Combat 3-9x32 E sights are made, which are based on variable multiplicity. If a large animal, such as a coyote, is located at a distance of more than 100 yards, then the sight is set to increase to 9 times. In the name of the sight the designation "E" is the illumination of the sight mark (red and blue). Due to its simplicity Combat 3-9x32 E sight is more often installed on small-caliber rifles, although the muzzle energy limit reaches 3700 JJ (not higher than .308 Win caliber).
Why is the scope on our list?
· The Combat 3-9x32 E rifle scope is a good proof that quality can be achieved;
· The sight was designed as a compact sight for medium and long range operation, with a field of view angle of 43 - 13 degrees, allowing to fire on moving objects;
· The magnification of 3 to 9 times will help you to approach the beast from which you can hit it with the greatest probability.
TWS GSCI
TWS GSCI thermal imaging sight is a modern equipment, ideal for coyote hunting. Perfect observation is ensured by a smoothly adjustable lens with maximum 4x optical zoom and 4x digital zoom. This makes it possible to observe from long distances without risk of determining the position of the arrow. In addition, the thermal sight is characterized by an extremely long range of detection of heat emitted by vehicles - up to 9900 yards. The human detection range is 3200 yards. The equipment design is based on the uncooled FPA standard, which in combination with a refresh rate of 25 Hz provides a clear and smooth image. After all, it is the range, as we said before, that is the main priority when hunting for coyotes. The thermal sight also has a strong aluminum body, which provides high protection from shocks and mechanical damage, which is important during hunting, if you have to hurry to change your hiding place. But we hope you won't need it!
Why is the scope on our list?
· A good range will allow you to track the beast, and this is important for coyote hunting;
· A great zoom - 4x optical and 4x digital - at long range is what you will need first;
· Ability to implement with White Phosphor Technology so that your eyes do not get tired;
· Price. For a device of such a high class, the sight costs moderately.
Pulsar Digisight N455 LRF

We would definitely recommend this model with a built-in laser distance meter. It allows you to monitor the real distance to the target almost online. Of course, the quality of his picture is inferior to the best models of thermal imaging cameras - it seems less clear. But, when a hunter uses a bundle of "thermal imaging monocular (binoculars) + digital sight", the main load for identifying the target takes the thermal imager. The hunter already knows approximately where the coyote is, he just needs to shoot.
The maximum range of target detection with the Pulsar Digisight N455 LRF digital night sight is 500+ yards, which is quite enough to hunt a coyote with bait.
Why is the scope on our list?
· The sight rangefinder is the right one for coyotes hunting;
· Medium range sight for hunting with bait;
· Magnification: 4.5 - 18 x is a good value for a device of this class;
· The price of the device is not high.
· If you decide to get a little closer to the beast - Pulsar is your choice.
Here we do not claim to be true, because the choice of the sight is always left to the hunter: taking into account the sights used earlier, the caliber of the weapon and, of course, the beast.
Hunting these wild beasts is dangerous and specific. Before you begin, familiarize yourself with the laws of your state.