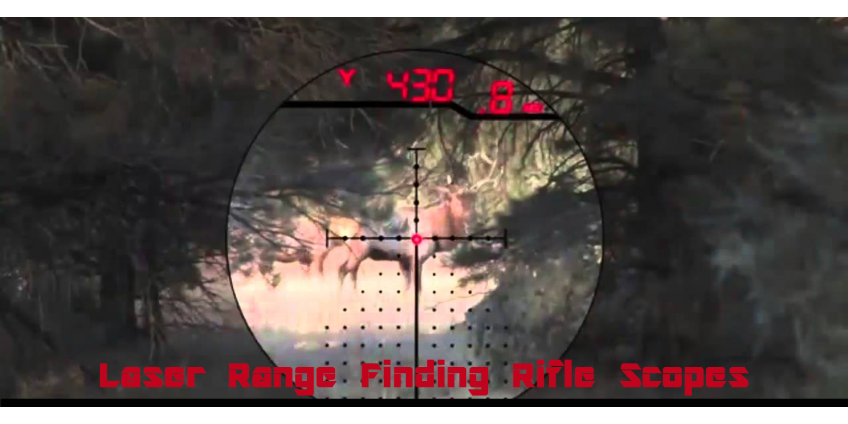 A little bit of theory: Laser range finding rifle scopes are sights for high-precision shooting. The main feature - an increase in the visible target. The shooter looks into the eyepiece of the sight, where the sighting net and the target are visible. When the crosshairs of the reticle are pointed at the target, the aiming is performed. It should be noted that the shooter's eye must be on the optical axis of the sight and at a certain distance. When aiming correctly, no lateral circumferential shadows can be seen through the sight.
There are many varieties of rangefinder sights. You can classify them by magnification ratio and lens diameter. When marking the sights these two basic parameters are specified.
When you buy a sight, it is important to ask yourself questions: for what purpose do you choose it? What kind of hunting (or shooting) and what kind of weapon are you going to use it with? Yes, there are universal sights, suitable for a variety of tasks, but they also have their limitations.
Here we will consider main characteristics of sights and their influence on success of shooting in different environment conditions.
There are indicators that affect the quality of the laser range finding rifle scopes:
Shortcut scope;
Lens diameter;
Lens type;
Sighting grid selection;
Body material and tightness.
If you decide to buy a laser range finding scope for your rifle, you should consider the advantages and disadvantages of devices. Only after that, you should make a decision.
We will help you with that. So, what are the pros and cons of devices with rangefinders:
Pros
This is an optical device that is designed to accurately point a weapon at a target. It can also be used to observe terrain and determine the distance to objects (if their size is known).
So, its strengths are:
Easy to use - You no longer have to carry two devices instead of one. Simply take your weapon's optical rangefinder laser sight and forget about constantly switching devices. You also don't need to distract yourself from tracking your target by extinct the distance with a rangefinder - everything is already packed into your scope!
More accurate field of view. Do you want to get a more accurate field of view? Use the rangefinder sight. They have a more powerful lens, which means the FOV is also better.
Speed of shooting. The combination of the scope and rangefinder allows the user to speed up the shooting time. This parameter is especially important while hunting. You no longer have to switch your attention to different devices. Just look at the scope and shoot fast!
High quality device. Rangefinder sights are more expensive for a reason. The quality of combined devices is high. Manufacturers pay much attention to the body materials, quality of lenses, optics, etc. No compromises - only the best!
Cons
When you choose such a sight, you should understand that its considerable price (compared to a collimator, for example) is very justified, because rangefinder sights are devices for high-precision shooting. The main feature is an increase in the visible target.
The weaknesses of rangefinder scopes are:
A high price. Of course, you must be prepared for the fact that by combining the rangefinder and scope the device will not only be easier to use and save you time. It will also increase in price. A rangefinder scope saves you time and effort. It should cost more. It all makes sense.
The weight of optics. The sights get tougher when new devices are added to them. Of course, by combining the sights and laser rangefinder, the weight of the device will also increase. The sight is mounted on the rifle. Which means that with more weight, you may lose some of your usual weapon parameters. Be careful, especially at first.
Larger size. The rangefinder + sight combination is good on large weapons. If your weapon is smaller than the scope, you'll feel uncomfortable.
The Verdict
In, summing up the above, if you want to choose a good quality laser range finding scope, pay attention to all pros and cons of the device in case of your needs. There are no "good" or "bad" options. The technology isn't standing still. We are confident that the existing deficiencies in the rangefinder sights will be resolved soon. Then we'll be able to enjoy two-in-one versatile devices. In the meantime, draw your own conclusions based on your needs.
We hope that our article will be useful for you and you will be able to make a decision about purchasing the right laser sight for your rifle. Or you can give up this idea by choosing a separate rangefinder and sight.
Have a good hunting or tactical operation!