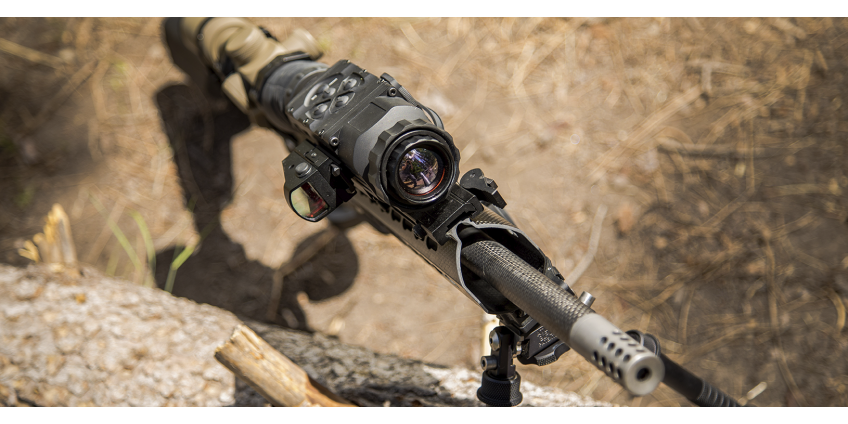 Intro
Optical performance is also significantly impaired when there are fingerprint marks, dried up splashes of water, dirt and fat on the lens. Fine dust can also cause scratches - this defect is unrepairable.
That's why it's important to keep your sight or binoculars in perfect condition and to choose the right cleaning methods and detergents.
Properly selected and tight fitting lids of high quality will keep your lenses clean, protecting them from moisture, dust and snow. The lids can be used with both sights and binoculars. On the inside you can stick a ballistic table with corrections for your rifle scopes.
So how do you properly store and care for your optics?
Case
Storage of optical devices, like any other hunting optics, must be carried out in a special case. Similarly, transport of the rifle scope must also be carried out in such a protective case. However, if binoculars, rangefinders and monoculars are sold with such covers, then the telescopic sights are usually sold without them. Therefore, you will need to take care of a separate purchase of such a case, or install the sight on the gun and get a quality case, which would allow you to store the gun with the sight. In this case, give preference to fabric versions of covers, which would have foam inserts. As an option, you can offer a plastic or metal case, but it should also be equipped with such soft inserts and elements. In order not to affect your optics - you can throw a few bags of silica gel inside the case during hunting - they will protect your rifle scope from the aggressive effects of dampness. These bags can be taken out of the box when buying home appliances, clothes or shoes
Keep the lids closed
Lenses are the most important detail of any optics. Precision ground glasses determine light transmission, influence the quality of the enlarged image and generally make the observation surf suitable for the intended use. The smallest scratch can spoil the image. Both lenses - eyepieces and lenses - should be closed to protect them. This also applies to lenses with a protective coating. This coating is very thin and should be treated with care. This also applies to lenses of thermal imaging instruments made of rare and therefore expensive semi-metal germanium - they also need to be protected. The flip-down covers protect the rifle scope until it's really time to open them and see your target in the eyepiece. Do not move around in thickets with the lids open - the needles or foliage may get on the lenses, and you may break or lose the open lid caught on a branch.
Keep it clean
Do not try to clean the rifle scope with anything other than special cleaning products and wipes, otherwise you risk scratching them. You can be very careful and tidy, but still dust or dirt will more or less settle on the lenses of your scope. Do not be tempted to wipe them with the sleeve of your shirt or jacket - you will only make it worse.
Instead, tilt the device with the lenses down and try to blow dust off them. Compressed air aerosols can be used for this. Compressed air aerosols are used to remove dust from the computer keyboard. If you do not have the cartridge handy, you can use an air blower to blow off the dust. If you can still see sticky dust and dry dirt particles on your lenses afterwards, try to brush them off with a soft brush. Use it very carefully: if the dust particle gets attached to the brush, it can damage the optics.
After removing the dust, wipe the lenses with a lint-free cloth soaked in a special cleaning fluid. The liquid dissolves organic substances without damaging the solvent-sensitive lenses. The gentle detergent contained in this liquid acts as an emulsifier and also reduces the surface tension of the water, so the contaminants are literally drawn into the cleaning solution. Such cleaning enables the optics to get rid of greasy stains, dried up water splashes and other contaminants. Instead of lint-free fabric, the latest generation of impregnated non-woven materials can be used. Napkins made of them are often complete with optical devices. However, care should be taken that they are designed specifically for processing glass lenses. Start cleaning the lenses from the center, making gentle circular movements and gradually moving to the frame. This will help to avoid stains and dilutions. Do not rub hard with a cloth on the surface of the lens, otherwise there is a risk of scratching and removing the lenses' brightening coating.
No matter how strong the temptation is, never use your shirt for wiping the lenses, never take paper towels, kitchen tablecloths or handkerchiefs. The material they are made of may be hard enough to leave scratches. Never use ethyl alcohol to clean optics, it dries out slowly, and there are white streaks on the lens surface. Instead of ethanol, you can use a solution consisting of 60% acetone or diethyl ether and 40% methyl alcohol.
What is the Best Scope Lens Cleaner
Currently, there are many products for optical care. Large manufacturers of optical devices usually make special cleaning sets for optics themselves and recommend using them with their own devices. These kits already include everything you need. Very convenient and simple means of cleaning optics is a universal device "LensPen", made in the form of a pencil. On the one hand, "LensPen" is a retractable brush made of soft natural hair (it serves to remove dust and coarse particles from optical elements), and on the other hand - a round tip made of microfiber, impregnated with cleaning solution (it is necessary to remove fingerprints, greasy and dried up stains). This set is especially convenient in the field, so it is often offered by companies that produce binoculars and spyglass tubes for hunters and tourists.
After the optical elements of the device have been cleaned, it is necessary to take care of its body. This is not difficult at all: just use an old toothbrush to clean through any crevices or cracks in the housing. Then brush the hard-to-reach places around the swivel axis and focus drum with a cotton swab, and you can wipe the body with a damp cloth. Your optics are your eyes when you're hunting. Take care of it, as a clean optic is irreplaceable in the field.