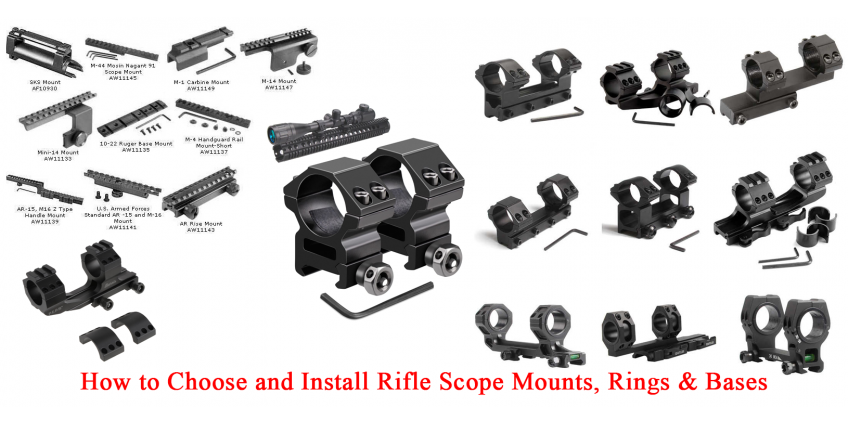 Many optics for rifles come with mounts included as with red dots, holographic sights both come with their mount installed on housing to mount to top of the Picatinny rail. If you are going with a more traditional style riflescope, depending on brand it may come with or without rings included. If you are selecting your base or you're selecting your rings or any other mounting platform for your rifle, you'll need to make sure you choose the right variant that will serve you for a long time.
Rifle Scope Mounts, Rings & Bases 101
The bases and rings used to connect a rifle scope to a firearm are often the weakest links in a shooting system. The very best scope and rifle combination are rendered useful only with a properly fitted connection. Sometimes it can be hard to define if you have an insecure or ill-fitting connection until you're at the shooting bench or in the hunting field where a poor installation may show itself as irregular and cause an excess expenditure of valuable time and ammunition or a wounded animal.
When talking about two popular mounting platforms specifically the Weaver and the 1913 Picatinny rail. The second one was developed by the military in the mid-90s and it was mainly designed because the military wanted something standardized across the board. Something that any manufacturer can make an accessory for their weapons and have it fit consistently and rigidly all the time. With that being said, there are some distinctive differences between these two. Firstl, the Weaver does not have a defined set of exact toleranced and exact measurements that the Picatinny does. So, the slots on the Picatinny and the slots on the Weaver although they look pretty similar are very different. If you have something that's made to mount on a Picatinny system, it's not always gonna mount on a Weaver rail. But another way around, since the slots on the Weaver are a little bit smaller the Weaver rail will usually mount on a Picatinny.
Leupold Style
One more mounting system to discuss. Unlike Weaver-style rings, the Leupold system is not equickly detachable. To separate your scope the top half of the rings must be isolated. To gain leverage to turn the ring into the base you need to insert a wooden dowel between two halves of the rings that are loosely constructed.
Rifle Scope Rings
Circular clamps used to carry a riflescope and attach it to a fixed base on a gun. It is clear that the ring inside diameter must match the scope's outside diameter. When choosing the height of the ring you must pay attention to such factors as objective lens outside diameter, the ocular bell size, barrel contour, scope length, and eye relief.
Weaver Style Rings
Such rings are good because they can be disconnected from their bases with the scope still in them, and can be reinstalled without major loss of zero.
They are made to clamp onto a 7/8" wide base. Recoil lugs under rings prevent fore and aft movement of the scope during recoil and handling. Last but not least, by using them you can also swap scopes for various plans.
Extension Rings
Rings of any style with a cantilever portion that allows for a shorter mounting distance between rings. Such rings are useful to mount short scopes on long receiver rifles or to manipulate eye relief appreciably. Usually, extension rings offer another 1/2" of mounting leeway.
Ring Height
Scopes should be mounted without touching the barrel, as low as possible.
40mm scopes will generally use low rings with standard contour barrels.
42-45mm scopes will mostly use medium rings and 50mm+ scopes will generally use high rings. You should know that a super-high ring with an optical center of 1.5 will fit your flattop rifles well.
Tip-off Rings, .22 Rings and 3/8" Dovetail Rings
3/8" dovetail rings are commonly used on grooved receivers. While such receivers have cut running lengthwise in the top of the gun they are deep enough for the claws of the rings to firmly grip onto and normally found on .22 rifles and airguns. On the other hand, a standard .22 ring (that is also called "one-inch tip-off" or a "one inch 3/8" dovetail ring") are drilled and tapped for Weaver-style bases. Weaver-style bases really appear more area for the rings to grab onto.
Quick Detachable/Quick Release Rings
Quick Detachable rings include some kind of lever to quickly and simply remove your scope for cleaning, exchanging scopes, or any other purpose. The one that is not Weaver styled, requires matching bases.
Rifle Scope Bases
Weaver Style bases
The base is a special attachment that is used to connect the scope rings to the firearm.
Such bases are made of aluminum or steel, are inexpensive and readily available for most guns. Weaver rails fit the contour of the firearm receiver. Bases made from steel are 7/8" wide but, sure, it depends on the manufacturer.
Dual Dovetail
Dual dovetail bases have a lot in common with the usual Leupold style but the rear ring is turned in. Among benefits are the cleaner lines and fewer parts that his system allows. In such cases, even the absence of extra windage adjustments that the regular bases suggest is not a barrier.
Rifle Scope Mounts
Mounts are a combination of rings and base in one piece in order to use iron sights when the scope is not attached.
We would highly recommend you such firms as B-Square, NcSTAR, and DedNutz because they do not require gunsmithing to install, and are simply removed without harm.
STANAG
Sounds good but have you thought what does it mean? The question is -"standard agreement". It is a standardized mounting system used by NATO forces. Although STANAG rings and bases must be used together, some mounts will accept Weaver/Picatinny/STANAG rings because that of incorporated a Picatinny style rail.
To sum up, if you take your shooting skill seriously you'll need to have not only the high-quality gun but other details like rifle scope mounts, rings, and bases. Although they are small they have a big impact on the quality of your shot.