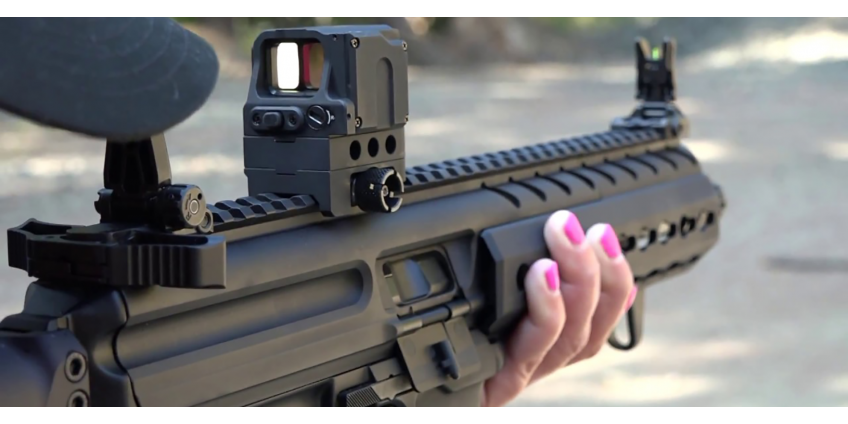 The red dot "Vortex" sights are ideal for when a shooter needs to react quickly to an emerging target. These sights allow you to shoot with both eyes open, which is ideal when speed and accuracy are important. They are nitrogen purged, waterproof, mist-proof and shockproof. The aluminum body is made of one-piece billets. The brightness of the sights are adjustable. Full multi-layer illumination increases light transmission of the lenses. All surfaces in contact with air are covered with anti-reflective coating.
The following models present range of sights within Vortex red dots:
AMG® UH-1® Gen II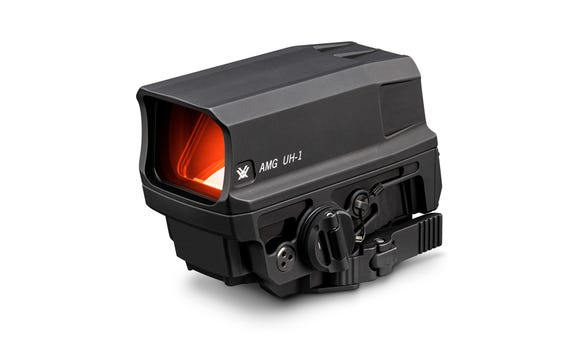 AMG® UH-1® Gen II - this generation of high-precision holographic sight - allows you to effectively aim at small and medium distances. The sighting device is compatible with NV devices, has an easy to remove battery cover, enlarged size of the sighting window, reduced weight and the following features:
• zero image distortion without magnification,
• 4 night vision compatible (NV) modes with instantaneous switching with a separate button,
• full multi-layer lens enlightenment,
• 15 modes of glow intensity of EBR-CQB sights,
• environmental protection class IPX-8,
• almost invisible from the front brand glow,
• integrated quick-release mount.
Razor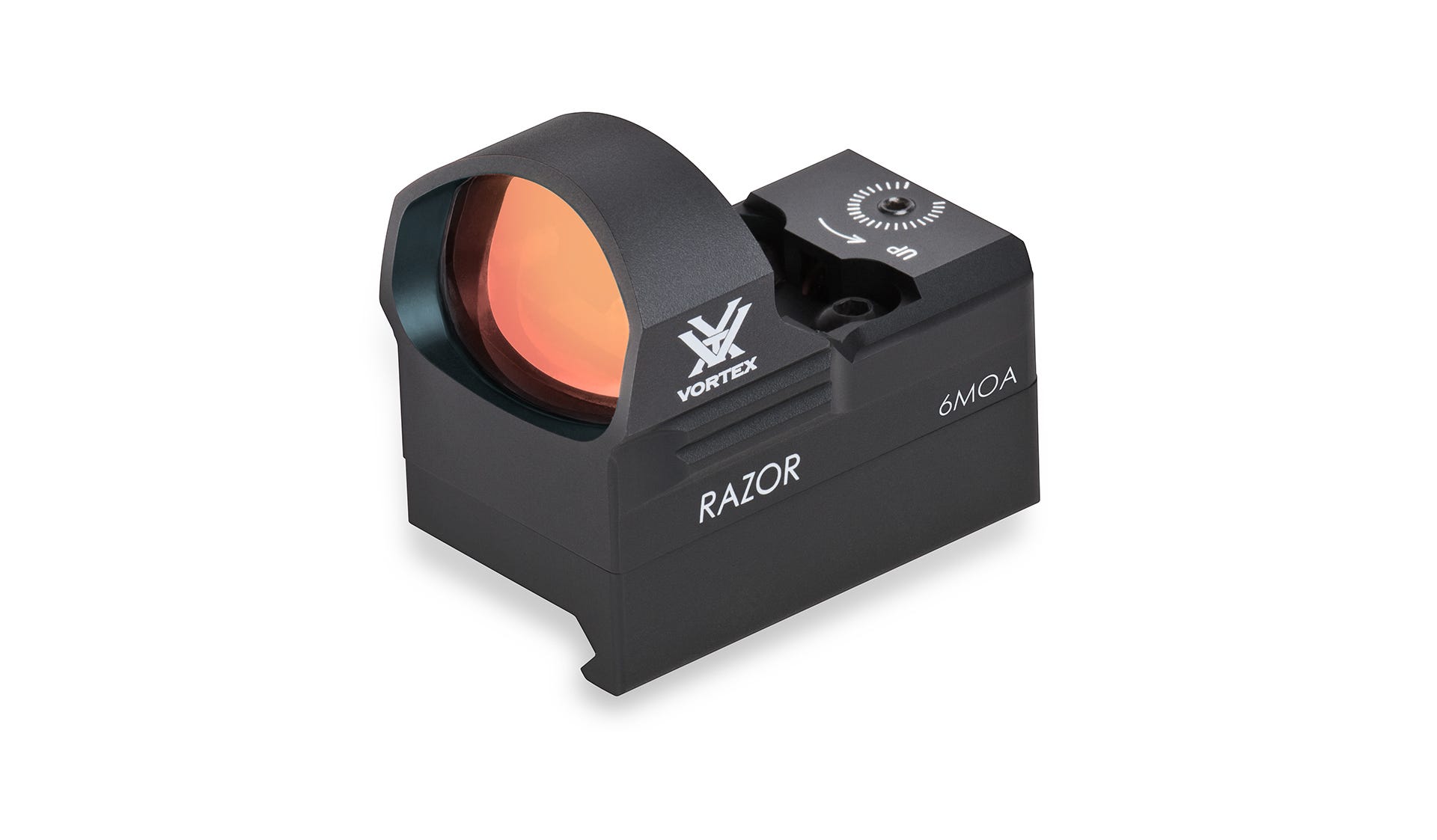 The use of revolutionary Vortex technology, Quantum Well Light Control (FHQ™), makes the holographic image of the target brand bright and clear, with virtually no parallax throughout the lens. The use of "XR™ Plus" technology and multi-layer coating of glasses makes the optics perfect, provides the effect of glare removal and longevity of the lens. ArmorTek technology - an ultra-hard, scratch-resistant coating protects outer lenses from scratches, oil and dirt. All this allows you to point the -1 MOA to the target quickly and clearly, without any errors. The design of the body, the Razor® AMG™ UH-1™, is designed to leave the scope frame optically out of sight.
All controls of the AMG™ UH-1™ are located in its base, in a double casing, which provides unprecedented reliability of the collimator and protection from mechanical damage.
Another important feature of the Razor® AMG™ UH-1™ is the ability to use the LFP123A battery, which can be charged directly via USB port on the sight itself. The standard CR123A battery has a continuous operating life of approximately 1500 hours, with a set brightness level of 8-15. The collimator has an automatic shutdown function after 14 hours of continuous operation. All this makes the Razor® AMG™ UH-1™, the undisputed leader among holographic collimator sights, and will ensure the highest wishes and requirements of shooters.
Viper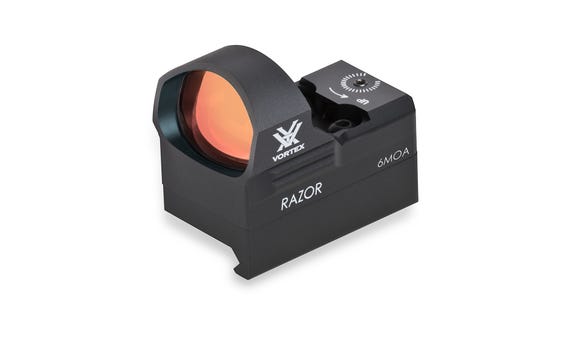 The Vortex Viper Red Dot 6 MOA is a collimating sight with a very low fit, which makes it ideal for short-barrelled weapons. The Viper Red Dot gives shooters a simple and fast collimator sight, and combines perfectly with high open sights, such as those on pistols that use silencers. The 6 MOA provides lightning-fast sighting, ultra-transparent lenses with fully multi-coated coating provide a wide field of view. The controls are located on the left side. The outer lenses of the sight are coated with "ArmorTek", which protects them from dirt, oils and scratches.
Features:
• Fully multi-layer coating increases light transmission.
• Sighting brand - point 6 MOA.
• Increased moisture protection. Rugged one-piece housing made of aluminium. Sealed with O-ring gaskets.
• Resistant to gun recoil and external mechanical effects.
• Power cell - CR2032. Auto-disconnect after 6 hours. Operation time at maximum brightness - 150 hours, at minimum - 30,000 hours.
Venom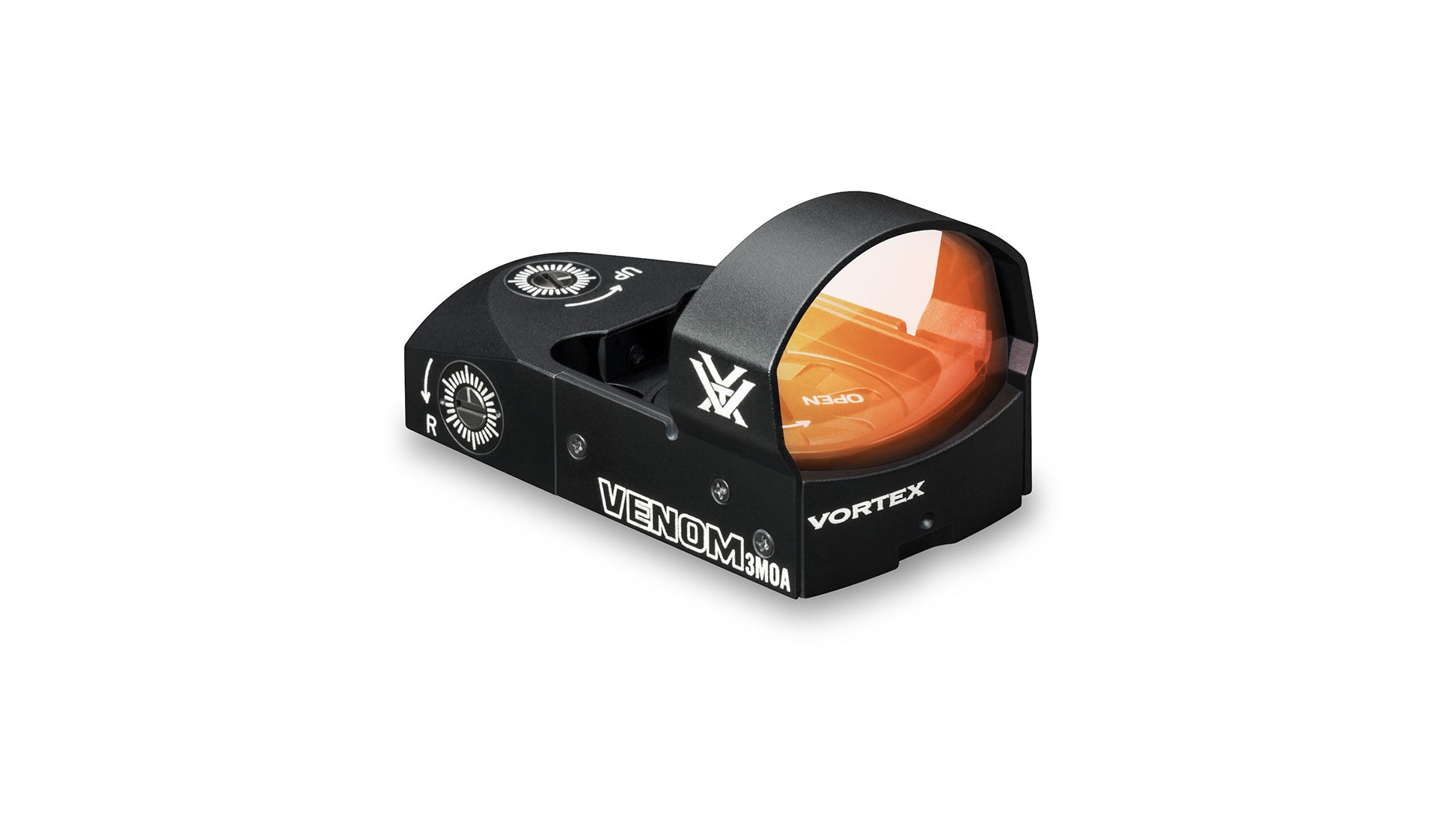 Make your gun or shotgun more dangerous with the Vortex Venom Red Dot collimator sight. The sighting point facilitates quick target designation while ensuring accuracy. The rugged, machined aluminum housing ensures reliability. High quality, fully multi-coated lenses provide a clean, wide field of view. The CR1632 battery is mounted on the top of the Vortex Venom Red Dot, so there is no need to remove the scope every time you change the battery. The brightness control buttons for the reticle are on the left side.
Features Full multi-layer anti-reflective lens coating for best light transmission. Exceptional edge-to-edge resolution.
• The size of the lens is 264x160 mm.
• 10 brightness settings of the reticle mark in manual mode and automatic adjustment mode.
• Automatic switching off of illumination at installation of a protective cover in an automatic mode.
• Compact and lightweight.
• Reliable design withstands kickback and impact.
• The sight is sealed with O-ring gaskets.
• Anti-reflective coating. Ultra-hard, resistant outer lens coating protects against scratches, oil and dirt.
• Auto power-off in 14 hours.
• Up to 150 hours of use in maximum brightness mode.
• Using low brightness levels can extend battery life up to 30,000 hours.
SPARC AR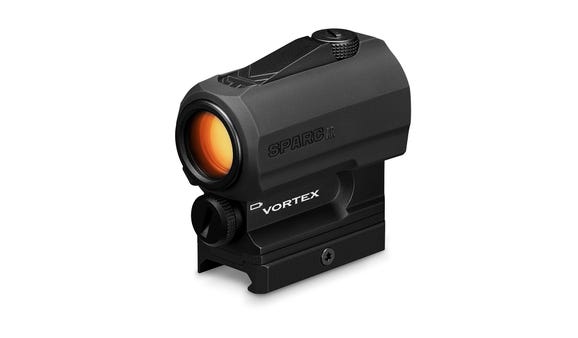 Vortex Sparc AR - SPARC (Speed Point Aiming for Rapid Combat) collimator sight is a very compact and ultra lightweight collimator sight. It has 10 brightness levels (the lowest two are compatible with night vision) and is mounted on a Picatinny bar. Suitable for both sport shooting and hunting. The multi-layer illumination of the lenses increases light transmission and improves image contrast. Horizontal and vertical correction range is 90 MOA. Battery life: 300 hours at maximum brightness setting and 5000 hours at minimum.
Features:
• Multi-layer optics - anti-reflective coating on the lens surface allows you to get a bright image.
• Nitrogen filled - Nitrogen filling and sealing system provides water resistance and resistance to high humidity.
• Impact-resistant - shock resistant construction.
• Unlimited distance from your eyes - no matter how far you take your eye from the collimator, you will quickly and accurately track each target.
Crossfire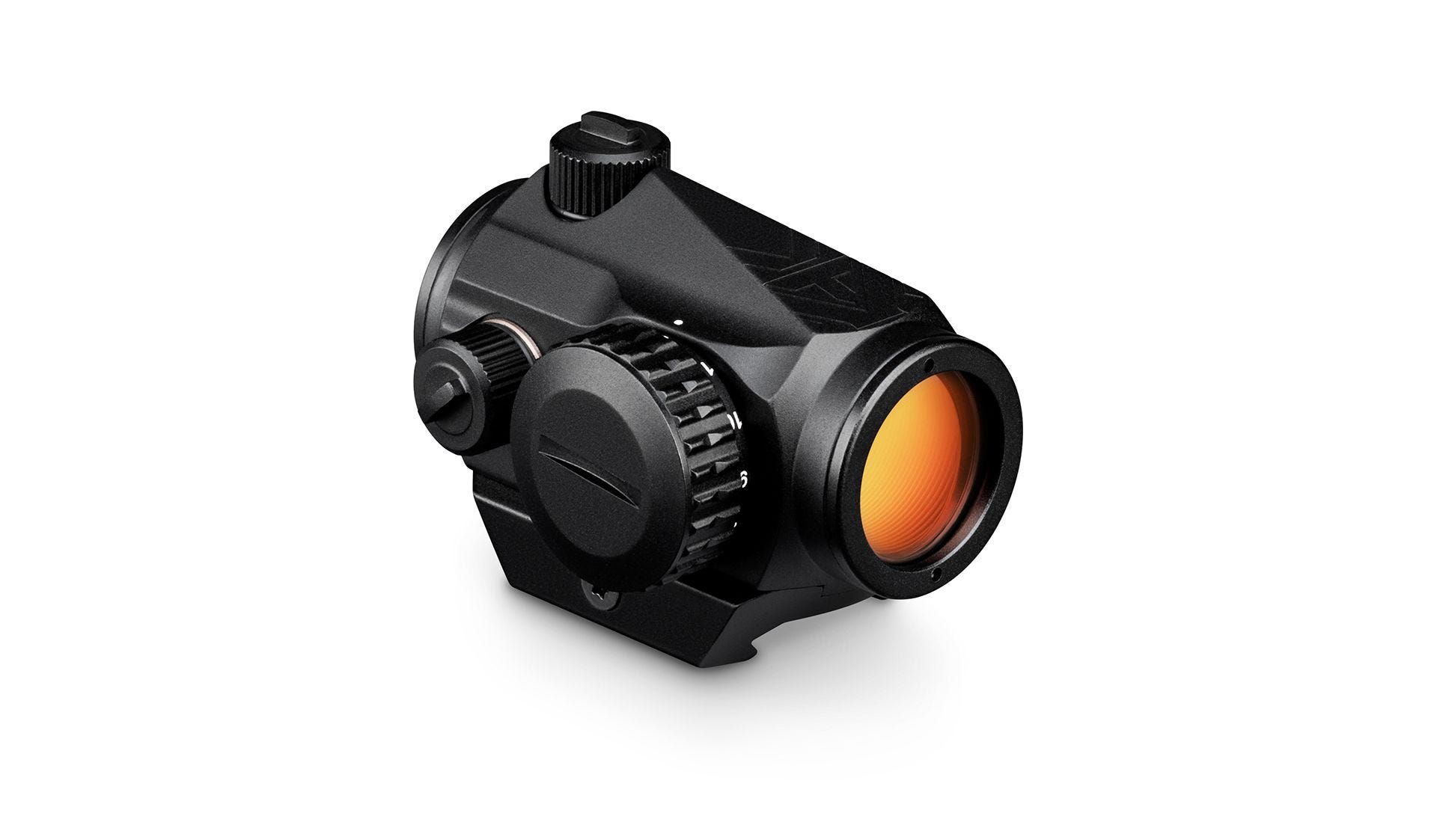 Ultra-lightweight, ultra-compact, incredibly durable and weatherproof, allowing you to aim in an instant - all these are just common but essential features of the Vortex Crossfire 2 MOA (Weaver/Picatinny) collimator sight. The diameter of the sighting point is only 2 MOA, which is very convenient for shooting at short distances. However, it has 11 brightness levels, which are enough to activate the sight for shooting at longer distances during day and night. Two Weaver/Picatinny mountings of different heights are provided, allowing to raise to a new level the sighting characteristics not only of the gun, but also of the smoothbore rifle or automatic rifle.
Features:
• Multi-layer optics - the anti-reflective coating on the lens surface provides a bright image.
• Impact-resistant - shockproof construction.
• Unlimited distance from your eyes - no matter how far you take your eye from the collimator, you will quickly and accurately track each target.
• Waterproof - means that the sight is sealed with O-rings and protected from moisture penetration by IPX7 international class. Immersion in liquid for 30 minutes at a depth of 1 meter will not cause the slightest damage to the device and will not affect its functionality. Such optics will not be affected by any weather conditions.
• Fogproof - means that the case from the inside is filled with inert gas, which eliminates condensation of moisture on the inner surfaces in case of temperature fluctuations. As a result, the optics do not mist up from the inside and there is no corrosion of materials due to moisture. The device is blown with inert gas, as a result of which air is displaced in this case by nitrogen, which does not contain water vapor and does not condense on the inside surfaces of the optics.
StrikeFire II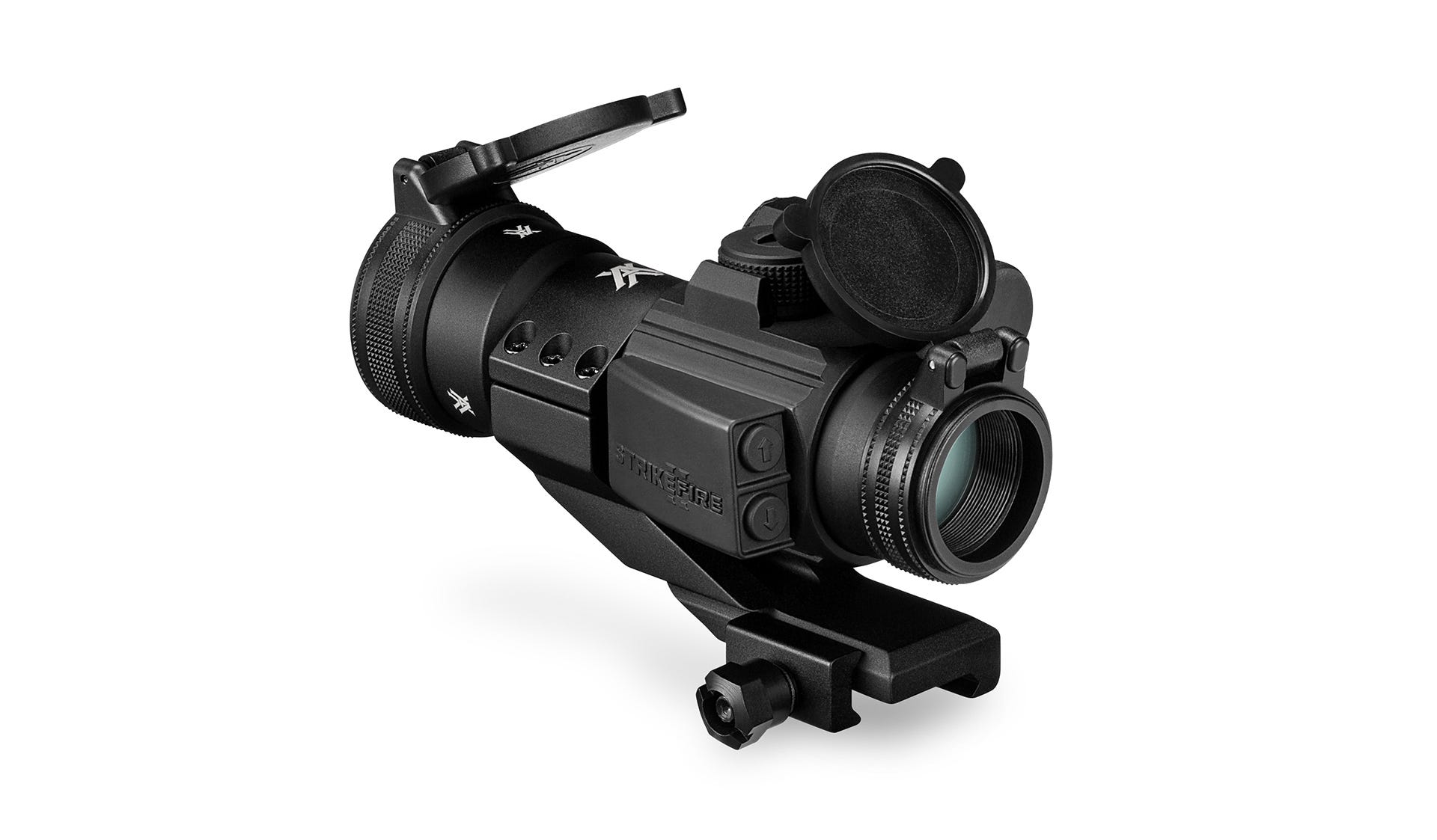 The Vortex StrikeFire II collimator sight is a multifunctional, versatile and reliable collimator sight. The StrikeFire II collimator sight is an excellent choice for shooters who want a good quality sight but do not want to go broke in money. This sight can be mounted on shotguns, rifles and pistols, it is also compatible with night vision sights and is perfectly compatible with the Vortex VMX-3T magnifier. It easily withstands 1000 shots with the Magnum 375 H & H.
The sight is supplied with a mounting bracket for mounting on AR-platforms, for positioning of the optical centre of the sight 40 mm above the level of the main surface.
StrikeFire - impact resistant, its aluminum body is made of one-piece workpiece. Colour of the reticle can be changed from red to green and back according to the hunting conditions, also with the help of 10 position rheostat the intensity of the reticle glow can be adjusted. Full multi-layer illumination increases light transmission of the lenses. All surfaces in contact with the air are treated with an anti-reflective coating. The sight is rebuilt from parallax at a distance of 45 m, at distances less than 45 m, the error is 2,5 cm. Time of operation on one battery - from 300 to 6000 hours. Automatic standby mode - 12 hours.
Fatures:
• Waterproof, optics has O-ring seals.
• Shockproof, able to withstand the return of a magnum-class weapon.
• Solid, aluminum body, durable anodized coating
• Able to work together with night vision sights and magnifiers
Spitfire AR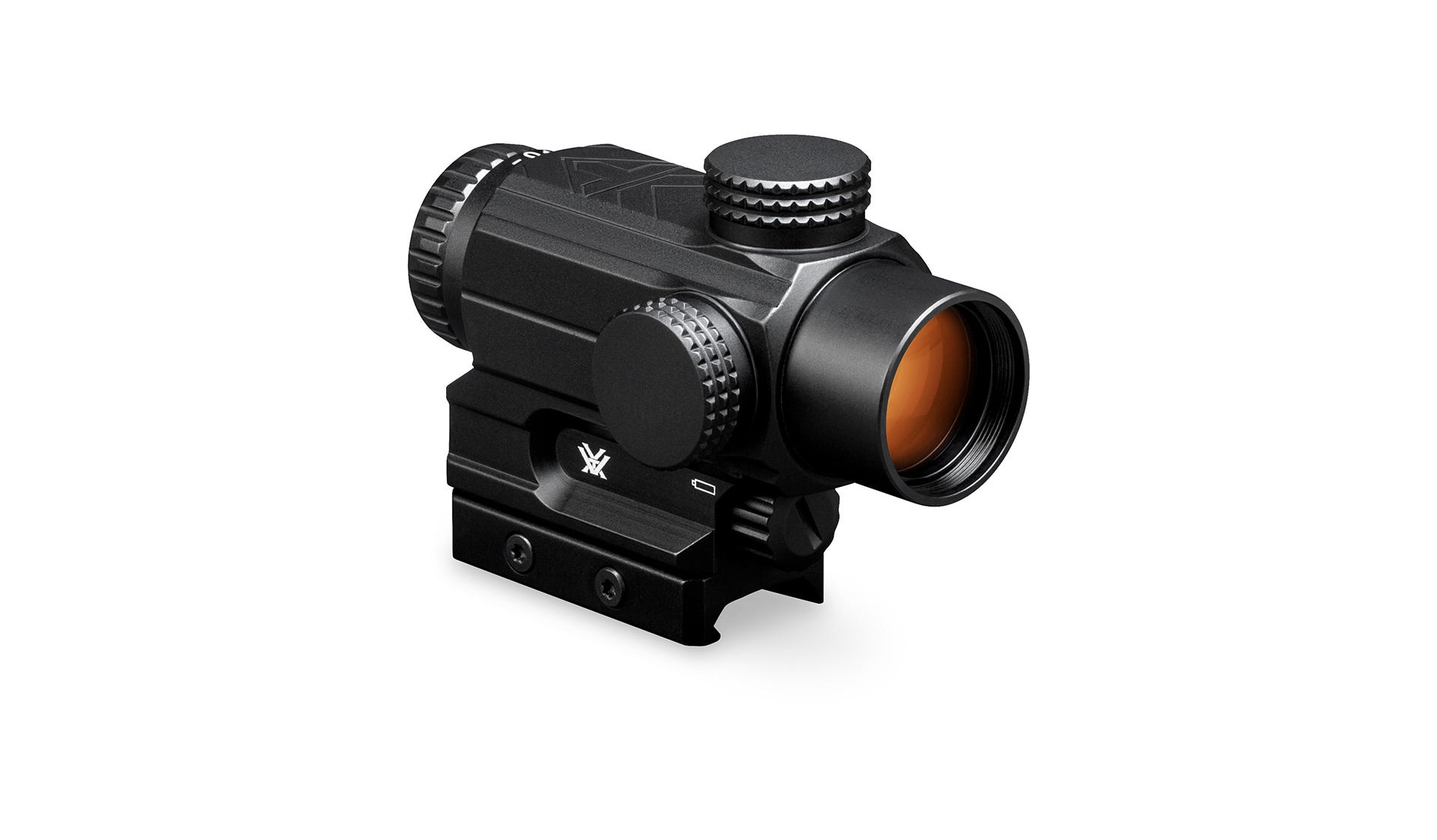 Built specifically for maximum performance on AR rifles, the new Vortex Spitfire AR 1x DRT Reticle provides superior optical quality and ultra-fast functionality in a lightweight, streamlined package. Excellent image quality, no parallax, and a comfortable eyecup allows the shooter to hold the target without much effort and even in stressful situations. The power and backlight controls are located at the rear and are easily accessible, easy to operate, remain visually accessible and at the same time protected from accidental contact. Twelve levels of backlighting intensity allow you to perfectly match the ambient lighting conditions. The rifle scope is powered by one conventional AAA battery.
The DRT (Dual Ring Tactical) reticle is etched directly onto the prism to ensure a constant aiming point at all times - regardless of whether the reticle is illuminated. An optional correction drum cap, designed to fit the 5.56 calibre, has the corresponding range marking in yards (up to 700 yards). The Spitfire AR 1x's lightweight scope is superb for short to medium range shooting, where speed matters, making it the ideal choice for shooters who need to grab their target quickly. The prism-based collimator provides a compact design, clear, bright and sharp image and a precise reticle.
Features:
• Thanks to the multi-layer anti-reflective coating on the lenses, the Spitfire rifle scope has maximum light transmission.
• The special arrangement of the prisms conveys an extremely clear image, the reticle is clear.
• 12 brightness adjustment levels
• Moisture protection: The O-ring rubber gasket provides reliable protection against moisture, dust and dirt penetration, so the reticle can be used in any, even the most adverse weather conditions.
• The Vortex Spitfire AR 1x gas sight is nitrogen-filled, reliably protected against misting and completely waterproof. Shock-resistant housing has a hard anodized coating to extend the life of the product.
• Operating temperature range: from - 30°C to + 50°C.
• Adjustable installation height: thanks to a special elevating stand included in the scope, the reticle can be mounted at a height of 40 mm.
• Battery life: 250h at maximum brightness level and 3,000h at minimum.
• Auto backlight switch off after 14 hours.
Spitfire 3X prism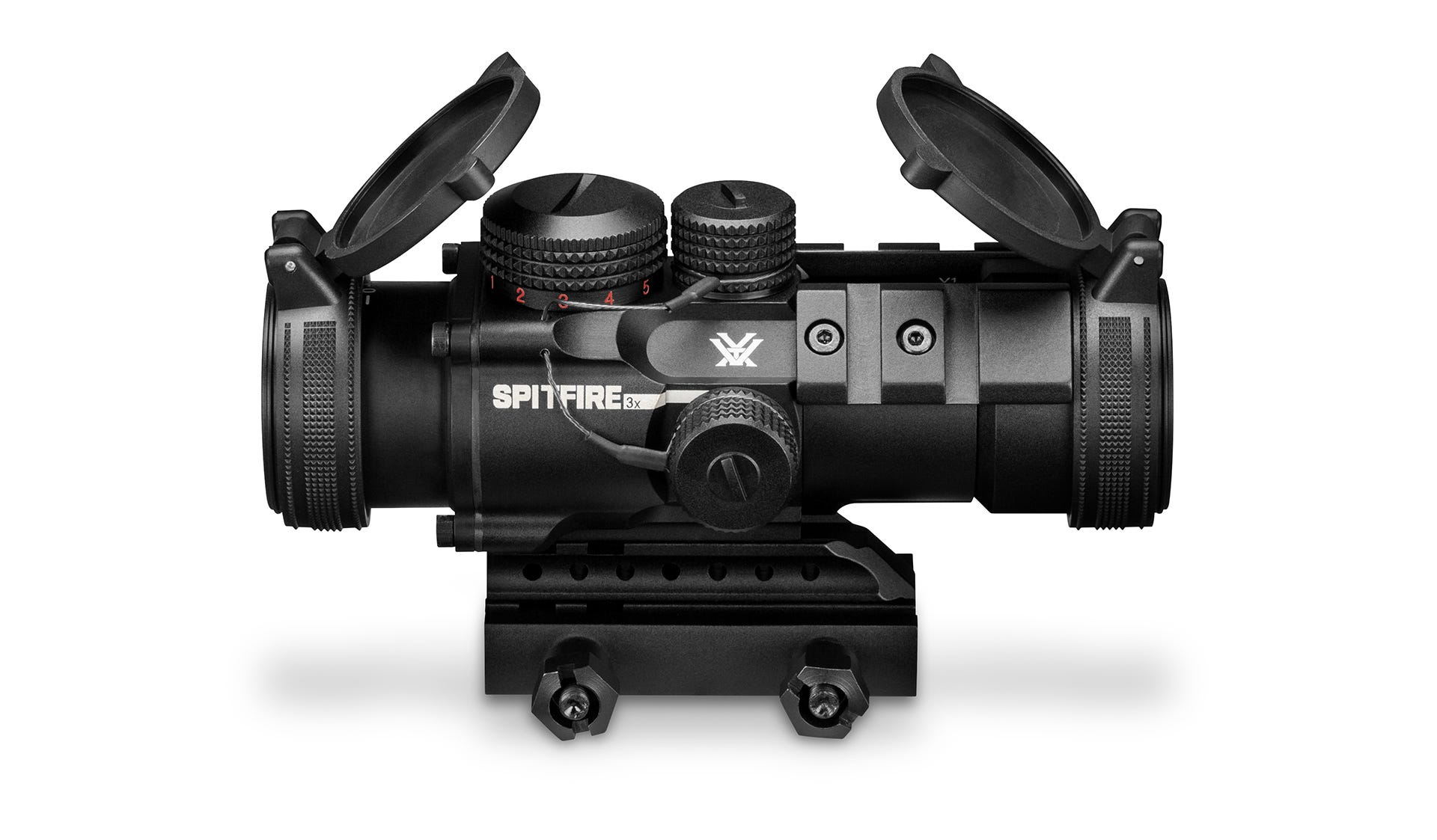 Prismatic sights with fixed magnification have been mounted on automatic weapon for decades due to their simple, compact and reliable design, but only few of them came close to Vortex Spitfire 3x (Weaver/Picatinny) in combination of performance and price. The waterproof, nitrogen-filled sight with full multi-layered optics and triple magnification was fitted with a changeable height mount and semi-automatic Flip-Up type lens and eyepiece caps. Special sighting mesh EBR-556B (MOA) allows to shoot at a distance of up to 500 yards from weapons of many popular calibers, and primarily from automatic weapons of caliber 5.56x45 (.223 Remington). The sighting grid is engraved on the prism and can be used with or without red or green illumination, which makes the sight always ready for use.
Conclusion
Each of the telescopic sights lines is unique in its own way, and has individual "character" and purpose. All sights pass the strictest tests and QA, and can be installed on any smoothbore and rifled weapon.
All sights come with a small number of pleasant bonuses. Rag with company logo for wiping the optics, chest badge "Vortex", battery for reticle illumination, hexagon for telescopic drums, protective hoods, operating manual of the sights and specific reticle. Instructions are made competently and well illustrated.
Millions of shooters all over the world have already chosen Vortex products.