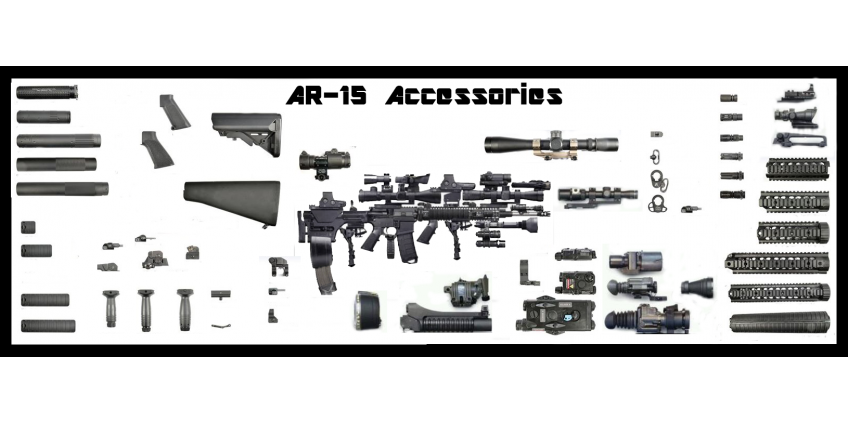 We use our rifles for different goals: from self-defense to hunting. Every AR-15 owner needs to understand which accessory to use to quickly change the rifle's purpose.
Optics
Lots of new guns do not come with sights. From one point of view, we understand that any shooter may have an individual preference, so why charge them for sights they'll just replace, right?
But from another point of view, your rifle is worthless without an optic of some type. That's why this should become the first accessory you'll buy!
When choosing optics it is important to understand what is the purpose of your rifle. For example, red dot sights are a more traditional optic than holographic sites, however both of these are true replacement options for open sights. You also have options in variable or fixed magnified riflescopes.
Picatinny Rail
Choosing the right Picatinny rail for you AR-15 is a crucial process because a handguard can determine the functionality and look of your rifle. The first thing to pay attention to is mounting holes for flexible mounting and to increase ventilation. The more holes your accessory will have, the better it will be for your gun.
There are 7 basic factors you need to consider such as look, weight, accuracy, mounting options, comfort of installation, heat resistance, and price. So which rail to choose? Over the last few years, Keymod and M-Lok handguards have become very widespread as an alternative to the traditional Picatinny rail. The machined cutouts result in a lighter handguard, that is more manageable to the machine.
Stock
If you want to transform your AR-15 into a more comfortable rifle, you might select a stock mod that will help you easily absorb any kickback from your weapon.
We recommend choosing a stock that doesn't add too much weight to your rifle. The better quality your stock will have, the more you can ensure accuracy while not compromising on the versatility.
Remember: before you decide which stock to add, try to understand the use of your gun. For example, an adjustable stock will be the perfect fit for competition, while an ambidextrous stock may be an excellent selection for home-defense.
Ambidextrous Hardware
We would highly recommend choosing hardware constructed from durable steel, and features a standard 90-degree throw or optional 60 degrees "Short Throw". This will be beneficial both for right and left shooters because of two leveler types: standard, and scalloped.
Upgraded Trigger
The perfect trigger will make your finger feel right at home, and you're certain to enjoy the accuracy you achieve as you fire your AR-15 time and time again. That's why upgrading the trigger is one of the most popular among AR-15 accessories.
The accuracy you achieve while shooting depends on how comfortable your finger feels at that moment. A good trigger should provide a comfortable level of resistance. To ensure that your rifle fires at the same moment you pull the trigger, choose single-stage ones. They are a great variant for home defense while two-stage triggers work better for competition shooting.
Flash Hider v
Flash hiders are also known as flash suppressors. The purpose of this type of muzzle device is to redirect muzzle flash to make it not so visible and protect a shooter's night vision.There are two fabulous variants of flash hiders for AR-15 we've prepared for you.
APOC Armory A2 Flash Hider – is a great compound of effectiveness and cost that looks great once installed.
NBS Four-Pronged Flash Hider – This corrosion resistible and durable flash hider is a great pick because it is made out of high-quality stainless steel.
Slings
Last but not least, slings can take some weight off your arms, so you don't need to worry about getting where you're going. Two-point slings would be the best choice! The adjustable loops they have allow you to change the length of your sling without losing time. What is more, you can transport your gun in many different positions with these slings.
Overall, we wish you to choose the best accessories to improve your shooting experience!